PSA Group Submission
Express - $165 per card $2499 DV – OPEN
Regular – $75 per card $1499 DV - 10 day
Value - $40 per card $499 DV - 20 day
Bulk Value Modern - $19 per card $499 DV - 65 day
Bulk Value Pre Modern - $19 per card $499 DV - 65 day
Dual Service Bulk (Card + Auto grade) - $25 per card $499 DV - 75 day
Bulk Modern TCG - $17 per card $499 DV - 65 day
---
Bulk Modern Cards (1980 thru Present)
Bulk Pre Modern (1979 and Older)
Crossover look fee services now available - These are look fee's and if the card crosses there will be upcharges.
BGS Group Submission
Premium Plus - $250 – 2-5 business day turnaround
Premium - $150 – 6-9 business day turnaround
Standard - $40 – 10-15 business day turnaround
Base - $22 - 20-25 day turnaround
All BGS Subs include subgrades and auto grades at no additional charge
Please note there is a 500 card per week limit per level, which is first come first served
Personal SGC/CSG Submission
Personal Submission - 50 cards+ = $19 per card
Group Submission - =>49 cards = $21 per card
SGC is a 5-10 day turnaround time
How to properly format your submission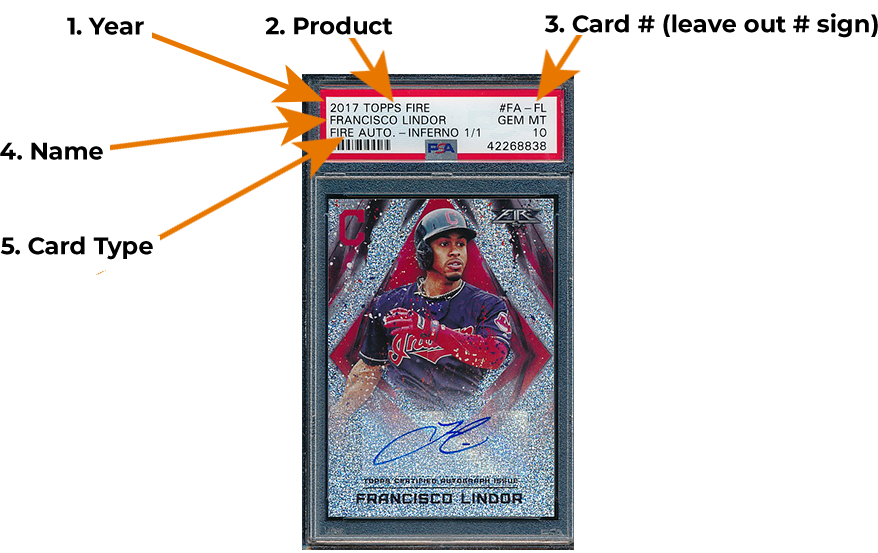 Please follow these steps when creating a submission.
Choose which service you want to use.
Complete the proper form
Mail your cards to our New Hyde Park office
We will confirm receipt and give you an update that your list matches what we received
We will process your submission to the chosen third party grading company within 5 days unless otherwise noted
You will get an email telling you what submission you are in and your portal will be updated with the submission that you have been entered in
You will get automatic progress emails sent to you along the way and will see all updates in real time in your portal.
Once grades are complete we will send you an email with a payment link and an option to consign if you so choose.
We receive the cards 3-4 days after they popped.
We ship back or move your cards to consignment depending on your request.
Q - How long does the grading process usually take?
A - Cards ship every week to each grading company. Each grading company has it's own turn around time which is estimated in the notes above.
Q - What is DV?
A - DV stands for Declared Value. Basically this is what PSA will use as a replacement value should something happen to your card(s) when they are in PSA's hands. When you are deciding on what to use as DV it is recommended to use what it will be in the grade you expect the card to get. If your card is deemed above the DV you noted PSA reserves the right to upcharge on that card. If there is an upcharge we will be forced to pass that on to you. These upcharges change and we will regularly update a section with what they are.
Q - What is the difference between DV and Insurance?
A - DV is what you are covered for should something happen at the grading company. Insurance is what you are covered for should something happen during shipping. If there are any issues the DV and the Insurance are the maximum amounts you can get paid out depending on what the situation was. If you do not take out insurance PC Sportscards is not liable for any loss during shipping.
Q - How can multiple people submit the same card?
A - When we enter and package the cards we do it in order of the customers. There is always a slight chance of them mixing cards up when grading but in our experience it is extremely rare.
Q - Can I send for multiple levels in a single package?
A - Yes, please separate your packages internally with your name and level clearly on each different level.
Q - Can I send for multiple third party companies in a single package?
A – No, we require the labeling on the outside to tell us what company you are using and the risk for an error is too high for them to be in a single package.
Q - How will I know when my cards are graded?
A - You will receive an email with a notification. Also, you can follow along in your personal portal to see the status in real time.
Q - How do I make a payment? Do you send invoices?
A - You will get an email with a link in it. Simply click that link and you can pay.
Q - Do you clean or evaluate cards prior to sending them in for grading?
A - This is not a service we provide or plan to provide in the future.
Q - Can I have a personal submission if I send 100+ cards over all the different levels or is it just for one specific submission?
A - Personal submissions are for 100+ cards in one level and one era. It is not the total amount of cards that you send in.
Q - Is there a minimum amount of cards for any of the levels?
A - No we do not have any minimums. Bulk is just the name of the level so you can send as few as 1 card in if you want.
No cap. No max/min per person.
Multiple people CAN send the same card.
You pay when we get the cards back from the grading company so it's one simple payment.
You put a declared value next to each card. Maximum declared value varies per submission level. DV is based on graded value, if DV is above maximum you may get upcharged.
You must submit a list of cards. That list should be in the same order when packaged. Your insurance to/from may differ from your total declared value.
ROLLING SUBMISSION DATES - Cards due every Friday for submission the following Monday.
We do not and will not clean cards.
NEW - Please send cards to - PC Sportscards, Attn: PSA/SGC/BGS/CSG Submission, 1983 Marcus Avenue, Suite 102, New Hyde Park, NY 11042 - Please put whichever grading company applies in the attn: not all of them.
2017 Panini Optic 188 Donovan Mitchell Red Holo 28/99 ($100)
2017 Panini Optic 188 Donovan Mitchell Pink Velocity 41/79 ($150)
2017 Panini Optic 200 Markelle Fultz Black Velocity 23/25 ($30)
2017 Panini Optic 198 Jayson Tatum Red Holo($100)
2017 Panini Select P7 Donovan Mitchell Downtown($125)
2017 Bowman's Best TP33 Vladimir Guerrero Gold Refractor ($50)
Place all cards in card savers, top loaders or mags. If they are in factory sealed mags please put a note saying "ok to open" on it so the grading company knows its ok.
Put cards in the same exact order as your list. Top cards is card #1 and the last card is the bottom.
Put your cards in graded card sleeves/team bag (about 10 per bag).
Put your name, bag number and level on each bag. Example - Josh Cohen, Bulk 2017+, Bag 1 of 5.
Please note our process for receiving, listings, and paying out when you use consignment to pay for grading orders.
Select cards from submission to sell via consignment by checking the boxes next to the cards and hitting "Request Convert to Consignment" button.
We mark your submission as paid which results in a negative balance on your account.
Cards will get listed in about 2-3 weeks after you convert the cards to consignment.
We mark all items paid as they get paid which covers your submission cost.
You request payment and we send you the balance or we tell you what is owed if your cards did not cover your submission cost.
If you have multiple submissions and use consignment each one is marked as negative. You will only get paid when you get into the positive and pending submission costs are covered.
If your balance is negative, whether or not you pay for a specific submission, all non consigned cards are held until your overall balance is positive.
Mailing Address
PC Sportscards
Attn: PSA/SGC/CSG Submission
1983 Marcus Avenue, Suite 102
New Hyde Park, NY 11042
"PC Sportscards is my favorite place to submit my cards for grading. Whether Josh or Zach pulled from it from a break or it is personal stuff that I want to submit for grading (bulk or individual). I tell everyone constantly how great their service and turnaround time is!"
Joe Castora
"I got these cards back from PC Sportscards today from a submission I sent in February to try them out and they were incredible to deal with. They are very organized, responsive, and professional and I highly highly recommend using them if you don't know where to send your PSA Submission."
hoopsprospector (Instagram)
"I have used PC Sportscards for consignment services for close to a year now and I am beyond happy with their service."
Steven Ahn
<
>